Understanding Our Services And Your Needs
PROTECTION FROM YOUR HANDS TO THEIRS
Your assets, whether they are money, investments or property, mean a lot as you enter the golden years of your life. When you've planned and built your whole life to create a nest-egg, a comfortable life, you need it protected.
Beacon Estate Planning and Elder Law LLC is pleased to offer just the right packages for your particular needs. We offer varying levels of wills and will creation, trust creation and asset protection.
For more detailed needs, and more focused care, we offer asset protection for your children, disabled and your retirement accounts. We offer this on top of planning to protect you from nursing homes, probate and state laws.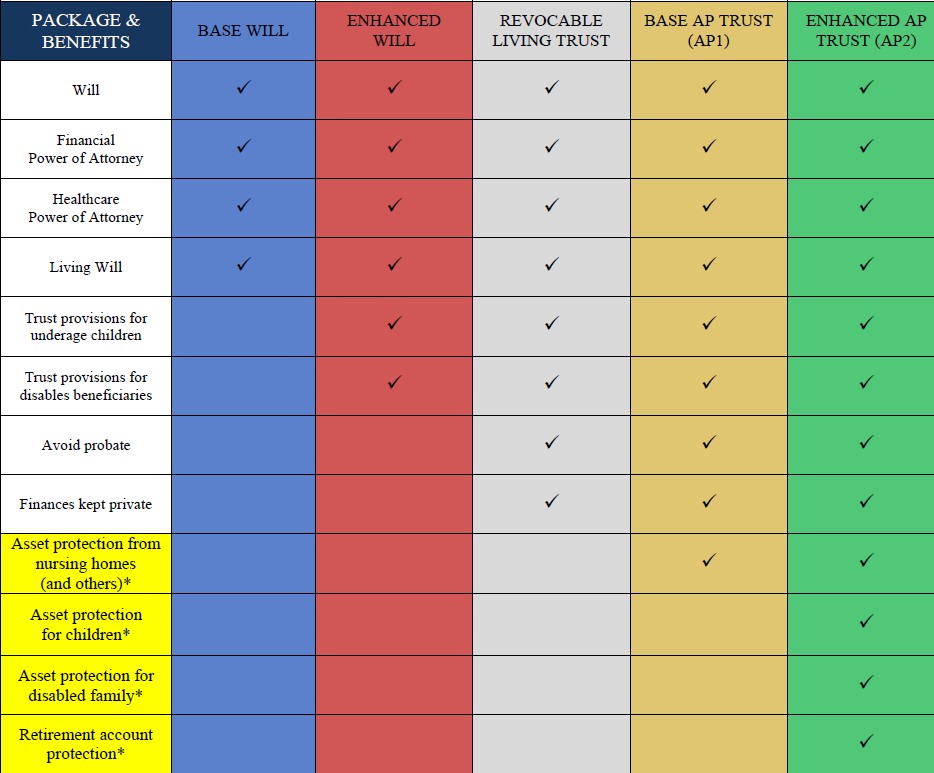 Wills and Power of Attorney - Protecting your foundation
Arguments and the unknown can make a natural and known occurrence in our lives, like our passings, become even more painful for those we've left. Not understanding your full wishes, can cause disagreements and arguments, terrible in-fighting and more. Your family needs the peace of mind a complete view of your wishes provides. You deserve to know that you left the world with the grace and love during your passing that you had in life.
All of our estate planning packages serve to do this for you, your loved ones and those around you. Each of our estate planning packages come with a standard Last Will And Testament and Living Will. Both of these contain all of your after-life wishes for your property, assets and direction.
We also want to give you the best care for your living wishes in both a Financial Power of Attorney and a Healthcare Power of Attorney. With these last two documents, you have a complete method of living every day as fully as possible, and making sure your life has meaning after you pass.
Enhancing your estate planning foundation
A Last Will and Testament, Living Will and a Financial Power of Attorney and a Healthcare Power of Attorney can accurately illustrate your needs and wishes as you enter the last stage of your life. However, you might need even more, or you might have special conditions beyond these.
Do you have children that need similar planning? 
Are they minors, or do they have certain circumstances that would need their own wishes and needs outlined as well?
Do you have a beneficiary who is disabled, needing the same level of technical care and understanding Beacon Estate Planning gives you?
We offer specific estate planning packages that will help you protect yourself, along with those around you that stand to possibly lose the most. They need protection, and you can do that for them.
Assets and Trust - Avoiding probate and keeping things private
A trust is a fiduciary relationship in which a trustor gives another party, known as the trustee, the right to hold title to property or assets for the benefit of a third party. 
A simple way of thinking about this is that you would create a trust, naming yourself as the trustee, with beneficiaries in that named group. If something happens to you, the asset ownership in the trust is then passed onto the person you wish.
The main benefits in this are 1) the internal holdings are considered private and 2) you avoid probate. 
Probate is a resource-drain of both time and money when a hardship has already occurred. The grieving family can experience wasting time in receiving much-needed funds. They also must pay court costs and other fees during this time. 
By using a trust, you circumvent the costly subject of probate after a death.
With a revocable trust, you also have something else up until your end-of-life event – control. You can revoke this trust at any time, for any reason. You can also edit the trust, as well as completely delete it.
Asset protection during end-of-life times
Who can you trust? 
When it comes to money, it becomes a difficult question to accurately answer. While you may not be surrounded by malicious people, (in fact they could be filled with love and compassion), money forces the pressure of decision making. 
Likewise, when you look at some asset and property laws concerning Medicaid, medical care and long-term facilities, a lot of issues can arise. The lifelong stability you wanted to have for yourself and your loved ones could slowly be compromised and eroded.
With our asset protection plans in our estate planning packages, you can see more finite control and focus. You truly safeguard yourself from external decision making and legal issues.
For many, this starts with protecting your assets from laws and regulations dealing with nursing homes, end-of-life facilities and other life-care situations.
Protecting your complete assets and property in retirement and beyond
In some cases, when we talk to people honestly, we find they need far more protection to cover far more than they thought.
In these cases, we also build complete trusts, wills, asset protection plans and offer consulting so that they can receive the best answers and protection possible. After all, you are creating a Will to carry out your wishes after death and likely leaving someone something. Why not offer the same protections for your assets and what you've built into your life to them?
You have more than simply savings accounts. You might have business investments, long-term savings, retirement accounts, stocks, bonds, trusts, vehicles, property and more. And, all should be protected from your hands into their hands.
At Beacon Estate Planning And Elder Law, we have created an all-inclusive plan to give you the most security in your lifelong asset growth and properties, while also protecting those closest to you. You will receive all the Wills, Living Wills and Power of Attorney discussed above. As well, you will receive all of the planning and asset protection that protects you from both people and laws. Finally, you will receive a comprehensive plan to protect your retirement accounts, investment accounts and other retirement investments.
Call us at (724)60-ELDER to schedule a free in-home consultation
Beacon Estate Planning looks forward to providing real solutions for your asset, estate and property needs. 
Whether you choose to receive a secure Living Will and Last Will and Testament, or you need to have a professional create an asset protection plan for your life's work, we can help you. 
We will listen to your needs, help you to see what might be a bit hidden or obscured, and create a real method of moving forward for you. Your protection is something you owe to yourself, and peace of mind is something everyone deserves. 
Call us today at (724)60-ELDER to schedule that peace of mind, and protect yourself and those around you with Beacon Estate Planning And Elder Law LLC.
You can also fill out the form below to claim your free consultation.